New generation small wind turbine for off-grid or air extraction installations - Anakata, 400W
New generation wind turbines 400W- 24V called A007. Suitable for installation on the ground or building roofs, quiet and productive.
Developed by Formula One aerodynamics and materials engineers, Anakata's patented 'Accelerator Technology' and 'micro-downstream' uses leading-edge technology to create a turbine that is more efficient than any other of its size. By increasing the speed of the wind as it approaches the rotor, Anakata's horizontalaxis wind turbines have significantly increased potential power output, even at low wind speeds.
What is included: Generator, multiblade rotor, hybrid controller with turbine input, 1pv module input, battery 24V input, 2 24V 10A output, monitoring software via computer through RS232-USB cable.

The downstream wind-trackers allow the turbines to react to a swift change of wind direction and gusting, to capture as much wind and generate as much power output as possible. The patented shroud designs of Anakata's wind turbines not only maximize efficiency, but also offer near-silent operation. Anakata's unique groundbreaking technology now enables wind power to be generated in areas where it was once considered unsuitable. This unrivalled innovative technology now enables small-scale wind generation to become economically and environmentally viable. The Anakata A007 is designed for use in a wide range of applications and users can tailor-make a wind power system according to their own energy needs and environment.
The small wind turbines can certainly be a viable alternative to other renewable energy sources, but the best results are achieved mixing solar and wind. The energy storage solutions are always more interesting nowadays because they are always able to ensure the supply of electricity to users, homes, shops or offices grid-connected as well as off-grid situations.
TECHNICAL SPECIFICATIONS:
Turbine type: Downstream horizontal axis
Rated power: 370 watt a 12,5m/s
Peak power: 130 watt a 20,0m/s
Output: 12V DC or 24V DC (Suitable for off-grid, battery bank charging, other third party inverters or multi source systems. May be used with an inverter to supply AC grid or non-grid-tie-in.)
Voltage options: 12Vor 24V
Generator: Permanent magnet generator, brushless, no gearbox
Start-up wind speed: 3,2m/s
Cut-in wind speed: 3,7m/s
Over-speed protection: Designed to comply with EEC directive 89/336/EEC
Survival wind speed: 50,0m/s
Rotor diameter: 0,85m
Overall cowl diameter: 1,0m
Rotor material: Acrylic coated ABS
Weight: 17Kg
Mast diameter: 48mm external diameter
Noise emission: 5 dB at 5m height at 10m/s wind speed
Yaw tracking: Aerodynamic, passive, downstream
ADDITIONAL SPECIFICATIONS:
High performance / high wear polymer yaw bearings
Nylon-cased slip ring to prevent cable twisting
Zinc-coated, stainless steel or power-coated anodized aluminum fittings to prevent corrosion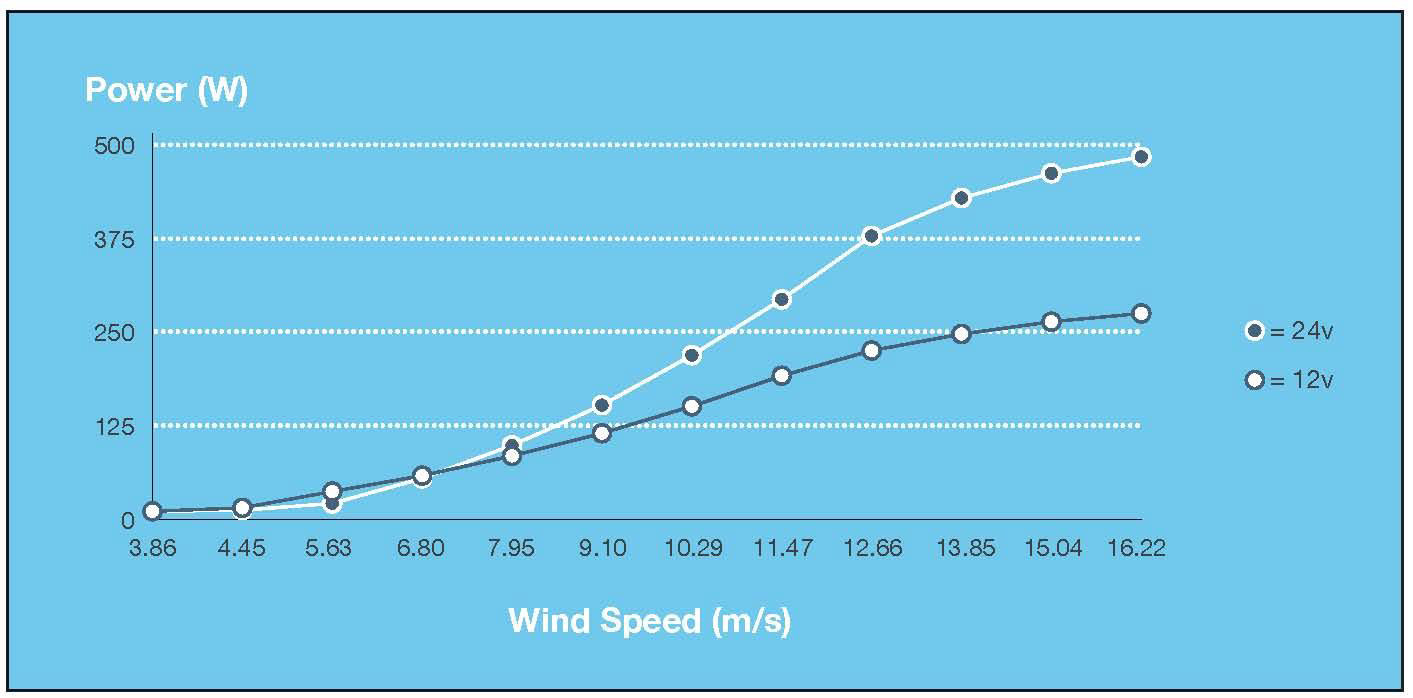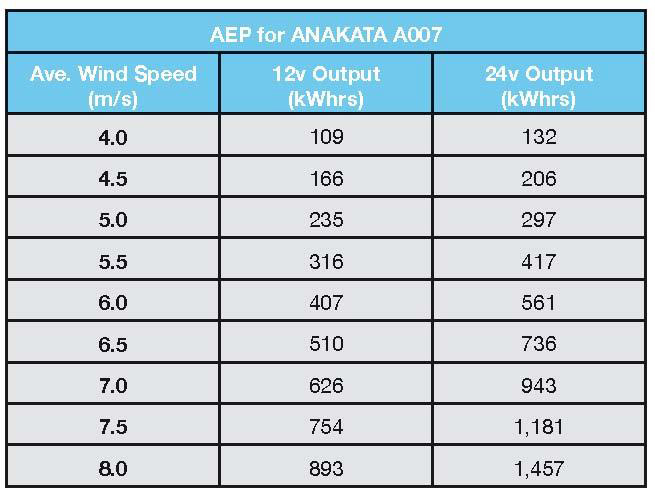 The annual energy production (AEP) gives a predicted power output taking into account changeable wind speed across a whole year and is generated using actual wind distributions, therefore offering more realistic statistics than simply reviewing a turbine's rated power is isolation.