SQE Constant Pressure Pump - Grundfos
Easy to select, easy to install and easy to operate, the SQE provides constant water pressure for a variety of applications, including well pump control and bore water pumping for domestic water supply. Made from high-grade stainless steel and other corrosion resistant materials, the SQE is a versatile pump that can be installed in bores as small as 76mm in diameter. It's intelligent control unit is capable of monitoring and displaying the system's performance continuously whilst also providing dry-running protection and other features that guarantee along lifetime of the pump. Even in the roughest domestic applications. The SQE, CU300 control unit, and the R100 remote control unit offers the multi purpose system that is your solution for water pumping needs.

The CU301 is the intelligent control unit that gives you continuous system performance indication. The control unit displays information telling you when the pump is working and at what pressure it is delivering water to your taps. Featuring state of the art technology auto shut off feature, when a water shortage is detected the pump is shut off preventing burnout. Other such features include protection against upthrust, overload and damage caused by fluctuating power supply. If maintenance is required, the CU300 will tell you in good time.
The easiest and most versatile pump on the market today, we are sure you will find the Grundfos will fit your application. Be it irrigation, variable demand pumping, residential water pressure systems, or borehole submersible pumping; the Grundfos SQE is the pump for you. Call today for pricing and information.
Technical information:
Performance Range:
Flow up to 9 m 3 /h (SQ/SQN 7)
Head up to 200 m (SQ/SQN 1)
Nominal Voltage Range:
1x200-230V
1x100-115V
Frequency (of the voltage supply):
50/60Hz
Max. Acceptable Media Temp:
30°C /40°C
Pump Diameter:
Ø74mm
Weight (min./max.):
4.7 - 6.4 kg
Thread Connections:
RP 1 1/4 / RP 1½
Min. Well Diameter:
Ø76mm
Materials (Stainless steel):
SQ -DIN W.-Nr.1.4301,AISI 304
SQN -DIN W.-Nr.1.4401,AISI 316
SQE pumps can be installed vertically or horizontally.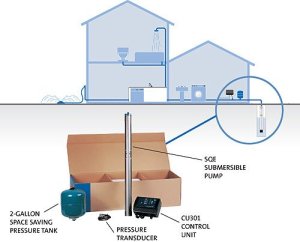 Features:
Excellent for home water pressure pumping systems
Dry-run protection
High efficiency pump and motor
Protection against up-thrust
Soft-start
Over-voltage and under-voltage protection
Overload protection
Over-temperature protection
High starting torque
Constant pressure control
Variable speed regulation
Electronic control and communication