Drainage Pump Wilo-Drain TS 32

Basement drainage pump

For pumping clear or slightly muddy water:

From tanks, sumps or pits
During overflows and floods
For draining cellar stairways and cellar areas
From domestic areas (washing machine water, soapsuds)
From small fountains, waterworks or streams
Quick Buy
(Just 2 fields to fill in)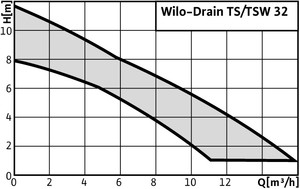 Special features/Product advantages:
Permanent operation 4000 h/year
High-quality motor seal with additional upstream dirt deflector
Heavy-duty, impact-resistant stainless steel housing
Detachable connecting cable/float cable
Easy operation and maintenance
Permanently clean pump sump (with TSW)
Technical data:
Mains connection 1~230 V, 50 Hz
Protection class IP 68
Submersion depth max. 10 m
Fluid temperature 3 - 35 °C, max. 90 °C for short periods up to 3 min.
Cable length 10 m
Free ball passage 10 mm
Pressure port Rp 1 ¼, hose connection ⌀ 32 mm, R1
| Name | Discharge size | 1-phase / 3-phase | Speed | Rated power |
| --- | --- | --- | --- | --- |
| TS 32/9A | 1¼" | 1~ 230 V | 2900 1/min | 0,55 kW |
| TS 32/12A | 1¼" | 1~ 230 V | 2900 1/min | 0,8 kW |
Equipment:
Ready-to-plug
Motor monitoring via temperature
Sheath current cooling
Connecting cable
Description/Design
Submersible pump suitable for stationary, fully automatic operation. A pressure hose of appropriate length is connected during mobile utilisation, while a pipe is connected to the pressure port for stationary applications.
A residual-current-operated protection switch for a trigger current of 30 mA that is to be provided onsite (regulation concerning outdoor installation) must be utilised in accordance with EN 60335-2,41.
Motor
Jacket-cooled, stainless steel-encapsulated, dry electric motor with built-in thermal overload protection and automatic reactivation, with internal capacitor.
Cable
In accordance with DIN EN 60335-2-41, 10 m of electrical connection line is required for outdoor operation (a variety of different regulations apply abroad).
Sealing of pumps/motor space
High operating reliability ensured by shaft sealing comprising a pump-side mechanical seal and motor-side rotary shaft seal as well as upstream dirt deflector for added protection of mechanical seal, oil barrier chamber.
Materials
Pump housing PP-GF30
PLC impeller
Shaft 1.4401 (AISI 316)
Shaft seal: NBR on motor side, carbon/ceramic on pump side
Motor housing 1.4301 (AISI 304)
Scope of delivery
Pump ready for connection with cable, plug and attached float switch, supplied non-return valve and hose connector (Ø 32 mm, R1), installation and operating instructions.