Whole House Compact Extract Fan Vort Penta
Continuously running central extract unit.
Trickle and boost speeds.
Self balancing unit.
The unit can ventilate a kitchen plus 5 additional wet rooms.
The unit can be fixed or suspended in any orientation.
Unit comes complete with a fixing bracket, suspension cord and two flow regulating spigots, this allows ventilation of a kitchen plus two wet rooms. If required additional flow regulating spigots can be purchased - see accessories.
Connections are 80mm and 125mm diameter.
DUCT: Can be used with either 80mm and 125mm diameter flexible aluminium or insulated aluminium ducts or rigid rectangular ducts in size FD200 and FD100.
Boost switch not provided (standard 1 gang 2 way switch by others required).
IPX4 splash protection.

Technical data:
| | |
| --- | --- |
| | Vort Penta |
| Air flow at speed 1, m3/h | 200 |
| Air flow at speed 2, m3/h | 400 |
| Noise level at speed 1, Lw dB(A) | 32 |
| Noise level at speed 2, Lw dB(A) | - |
| Pressure at speed 1, Pa | 210 |
| Pressure at speed 2, Ра | 450 |
| Max. ambient temperature, C° | 50 |
| Consumed power at speed 1, W | 21 |
| Consumed power at speed 2, W | 73 |
Dimensions: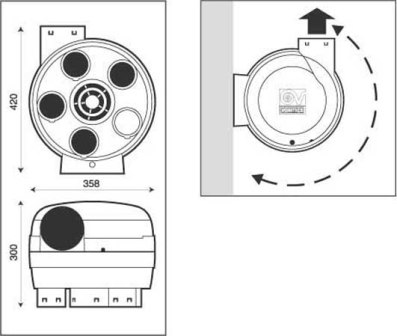 Brochure (it)
Certificates: