Thermodynamic Water Heater - Hot Water from the Air!
With Discovery, enjoy clean, free and renewable energy for your comfort. Equipped with a heat pump, it uses calories in the unheated ambient air to heat the water.
Depending on outside temperature, the water heater Discovery 2 can achieve electricity savings of up to 80%.
See picture with high resolution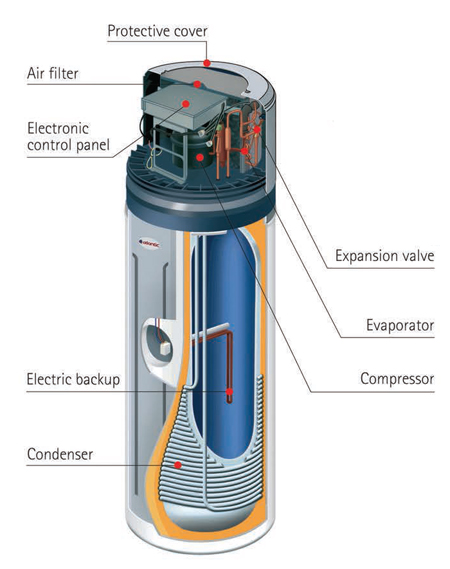 Economy
The water heater Discovery produces hot water from free energy - ambient air - thanks to its heat pump unit. By consuming minimal electricity, this heat pump unit draws heat from the air and amplifies it to heat the water.
System efficiency
For every 1kWh of energy used, the water heater Discovery produces up to 5.2 kWh* of energy.
*Depending on outside temperature
Environment
Discovery uses the heat contained in the air, a renewable and clean form of energy. Depending on coutries and areas installation, the water heater Discovery releases from 3 to 10 times** less greenhouse gases than a system that runs on fossil energies.
**Depending on countries and areas installation.
Comfort
Priority is given to the operation of the heat pump up to 7°C. To ensure comfort, the electric backup takes over at lower temperatures.
Performance
Ability to increase the water temperature up to 65°C
No contact between the hot water and the refrigerant fluid thanks to the double skin exchanger / condenser. It also limits the risk of scale deposit.
Copper immersion heating element.


Please consult us for further information.
така представен продукта ме заинтригува и се замислям сериозно за закупуването му,но ако имаше повече информация,като например реакция към варовик,подържка ще са от голяма полза за продажбата му.