Design radiator Mega Mono
Utilizing unique welding technology, Mega Mono is a modern reinterpretation of a vertical radiator. Determinate and powerful, its single (mono) configuration of elements create a relentless pace accentuating the dynamic radiator, with its unique empty centered elements. As well as bringing that special touch to your space, Mega has a high heat output with low water volume.
Height (H)
Lenght (L)
Center (A)
Number elements
Weight
Volume

OUTPUT (watt)

Δt=30ºC
Δt=40ºC
Δt=50ºC
Δt=60ºC
mm
mm
mm
pcs
kg
l
ral
stainless stell
ral
stainless stell
ral
stainless stell
ral
stainless stell
1500
363
1458
8
31.8
13.1
373
277
527
390
712
528
890
660
1800
363
1758
8
37.7
15.5
442
328
625
463
844
625
1055
782
If desired, we can produce models with different element numbers than listed.
Colour chart can be downloaded from here. For production of the product in some of the colors in the color chart an extra 15% on price are charged. It is possible to produce the product in desired RAL color as well. The production takes 45 days to be done.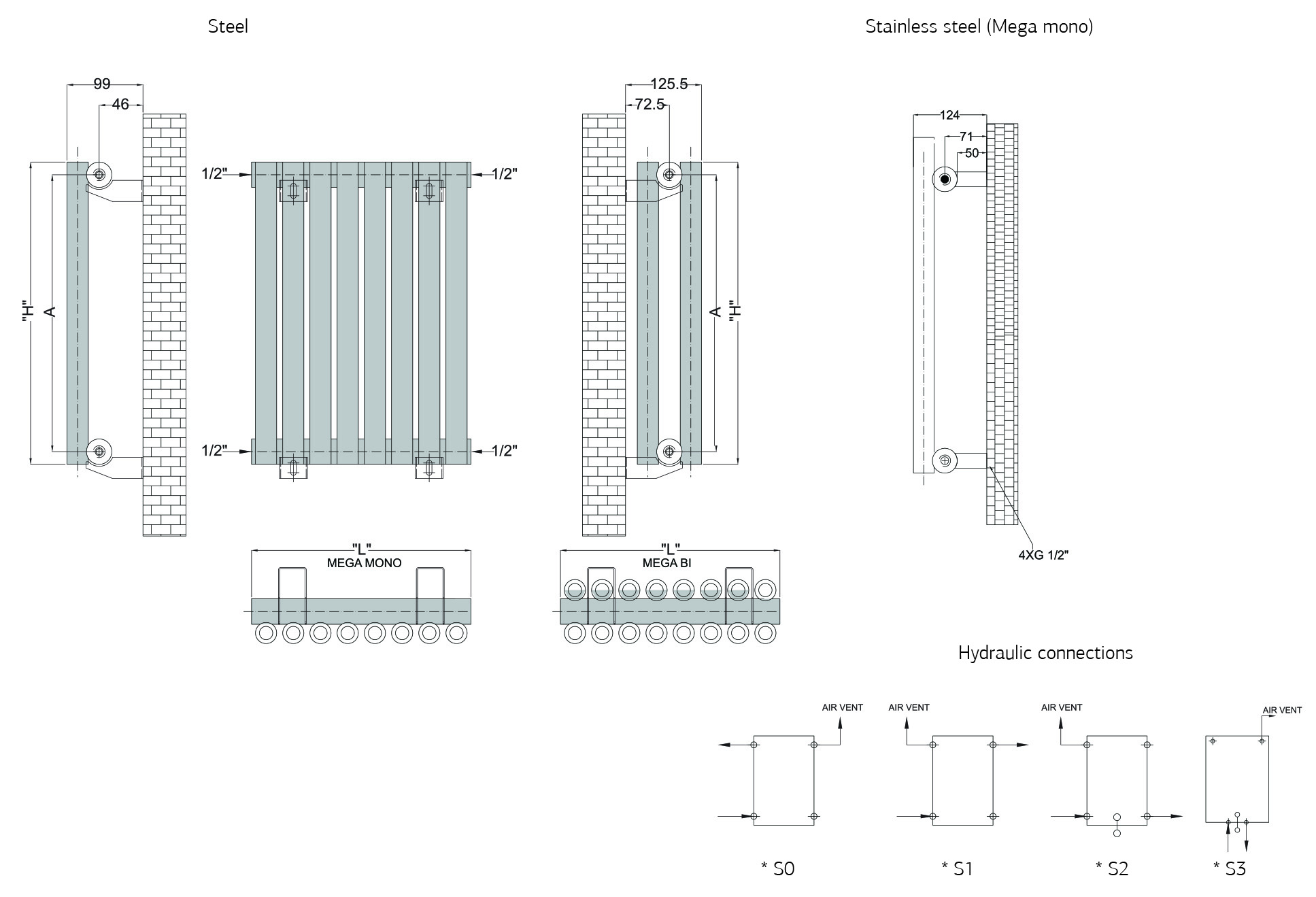 To offer a comprehensive 10 year guarantee we have to be confident in the quality of our products. Every single radiator is leak and corrosion tested. The products are installed on a water testing rig and the pressure of water pumped through the heated towel rail goes up to 15 bar of pressure which is 3 times more than the average household!
You can download the whole catalog of design rediators from here, and the price list from here.