Wire Clip for Stainless Steel Ropes from JAKOB

Wire stainless steel clips for inox ropes Jakob.
The stainless steel ropes from JAKOB are unique products with a large variety of accessories and endings, created and manufactured by the Swiss company Jakob AG (1904), with a representative office in more than 60 countries around the globe.
The inox line creates many possibilities for modern architecture design and practical, functional and decorative applications: holding constructions, shades, inner walls, advertisement holders, railings, furniture elements, landscaping systems, etc.
Quick Buy
(Just 2 fields to fill in)
| | |
| --- | --- |
| Wire Clip Size | Price with VAT per metre |
| Wire clip for inox rope fi 2 mm | 3.96 BGN |
| Wire clip for inox rope fi 3 mm | 4.25 BGN |
| Wire clip for inox rope fi 4 mm | 4.75 BGN |
| Wire clip for inox rope fi 5 mm | 5.18 BGN |
| Wire clip for inox rope fi 6 mm | 5.76 BGN |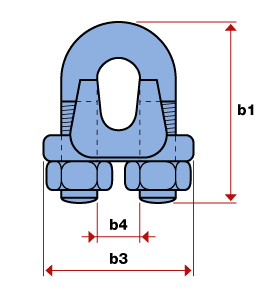 | Description | ø mm | b1 | b3 | b4 | Weight |
| --- | --- | --- | --- | --- | --- |
| Wire rope clip AISI 316 for rope 2 mm | 2.0 | 17 | 14 | 4 | 0.01 |
| Wire rope clip AISI 316 for rope 3 mm | 3.0 | 21 | 16 | 5 | 0.01 |
| Wire rope clip AISI 316 for rope 4 mm | 4.0 | 23 | 18 | 6 | 0.02 |
| Wire rope clip AISI 316 for rope 5 mm | 5.0 | 27 | 20 | 7 | 0.03 |
| Wire rope clip AISI 316 for rope 6 mm | 6.0 | 32 | 27 | 8 | 0.04 |