Electrical Heater Bellagio

Spare, reassuring design and compact size combined with the marvellously gentle heat of Fonte Active® technology.
STATE-OF-THE-ART TECHNOLOGY, REASSURING DESIGN
Bellagio
is equipped with the Fonte Active
®
element. It operates without heat-carrying fluid, thereby eliminating the risk of noise, leakage or corrosion frequently associated with fluid-carrying devices.
Its Fonte Active
®
heating element maximises efficiency while providing consistent, gentle heat, transforming this traditional-looking unit into an exceptional heater. It directs its gentle, radiant heat to the centre of the room to offer comfort all winter long. It operates cleanly without generating dust or drying the air.
The arrival of the
Bellagio
makes fluid-carrying units seem almost outdated.
Why choose this product ? Because its genuine Fonte Active® cast-iron heating unit makes it more compact than water-circulation units while also providing impressive heating comfort. It contains no fluid, consequently eliminating any risk of leakage, corrosion or water noise.
Quick Buy
(Just 2 fields to fill in)
Features
Top-mounted controls. Protective cover.
Multi-position selector: comfort, economy.
Temperature adjustment selector.
Lighted indicators for heating mode and operating status.
High-technology digital electronic thermostat with numeric regulation accurate to 0.1°C, pilot-wire programmable multi-tariff control in comfort, comfort -1°C, comfort -2°C, economy, frost protection or off.
Heating elements: Fonte Active® cast-iron heat diffuser.
Comes standard with 2-pin power cord + pilot wire.
Mounting bracket.
Thermal safety cut-out with automatic reset.
Colour: brilliant Greek white (RAL 9010B).
Specifications
model
power
width
height
depth
weight
ref
Horizontal
750
411
570
87
17.6
730B-2FPET
Horizontal
1000
494
570
87
20.3
730B-3FPET
Horizontal
1250
660
570
87
26.3
730B-4FPET
Horizontal
1500
660
570
87
26.3
730B-5FPET
Horizontal
2000
909
570
87
36.0
730B-7FPET
Vertical
1000
328
1000
106
28.5
730C-3FPET
Vertical
1500
328
1485
106
37.5
730C-5FPET
Vertical
2000
411
1485
106
46.0
730C-7FPET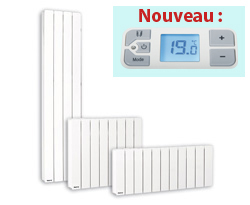 Много ефективен радиатор.