Fan Coils Series Wx0, for standard wall mounting, no front grille

Centrifugal fan coil units for 2-pipe systems. The main structure of the unit is galvanized and insulated sheet metal while the casing is hot-galvanized pre-coated metal sheet with a removable pvc film; this film protection is really important to preserve the integrity during transportation and installation. In addition, the construction features of the units grant and increase the resistance to corrosion.
The units are supplied with adjustable abs grills and side-doors for control board access. In addition, there are many accessories to meet any installation request: water and direct expansion coils with different capacities and loss, regulation valves, shut off and balancing valves, fresh air louvers, plenums with different dimentions for intake and outlet.
Quick Buy
(Just 2 fields to fill in)
Model
Cooling Capacity 7°/12оС
Heating Capacity 70о/60°C
Heating Capacity 50о/40°C
Air Flow
Noise Level
Dimensions
h/l/s
kW
kW
kW
m3/h
dB(A)
(mm)
W 50
1.254
3.421
1.91
274
58.8
480х560х200
W 100
1.573
4.081
2.32
366
57.5
480х760х200
W 200
2.189
4.961
2.90
352
58.4
480х760х200
W 300
3.201
7.271
4.26
516
57.8
480х960х200
W 400
4.290
9.339
5.51
651
57.2
480х1160х200
W 600
5.159
12.210
7.07
881
60.1
480х1360х200
W 800
5.610
13.640
7.86
1242
64.0
480х1360х200
W 1000
7.425
18.370
10.55
1451
65.3
480х1460х220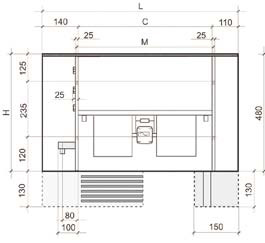 The fan coils come with a 2-pipe system (standard heat exchanger). If you would like to have a more powerful fan coil with a 4-pipe system, you may order additional heat exchangers from here.