Date: 07 May 2013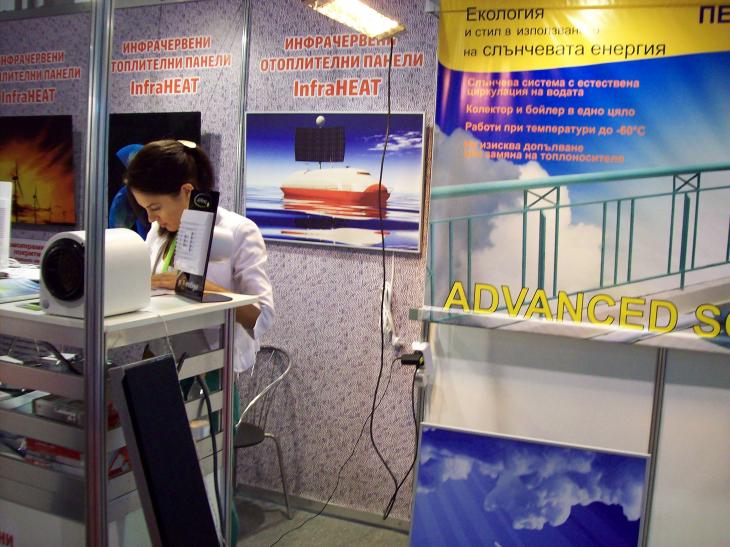 Pestim energia will participate with a stand at the International Exhibition 'Smart Buildings', which will take place 29-31 May, 2013, in Inter Expo Centre, Sofia, Bulgaria, as part of the South-East European Exhibition and Congress 'Energy Efficiency and Renewable Energy'. Visit us at stand 1- А27.
The company will display some of the innovative and energy-saving products that it offers:
Infrared heating panels InfraHEAT – created via a new technology based on carbon graphite polyimide.
Discover a new combination and application of technology and design, best quality and value on the market today. Our innovative infrared heating systems emit heat in the same way as the Sun. These heating elements provide high quality heating at affordable prices, are maintenance free, energy efficient and beneficial to your health. Infrared heat waves do not heat the air, instead the waves penetrate walls, objects and bodies which store heat for much longer than the air and project it back into the room in the form of a lovely, pleasant warmth. The ultra-slim infrared heaters from InfraHEAT can transform your home or office into an oasis of warmth and comfort.
InfraHEAT panels heat the premises via infrared waves in the wave range IR-C which is healthy and beneficial to the human body. With their low electricity consumption and soft heat emission, the heating panels InfraHEAT are a preferred solution for heating of premises with good thermal stability. In comparison to the newest generation of convector radiators, the infrared heating panels are around 30% more energy-efficient; in comparison to oil radiators, the consumed energy is around 50% less.
Infrared waves heat first the objects, people, walls, ceiling and floor, creating a comfortable environment for the people in the dwelling without the circulation of air, dust and bacteria, with even distribution of heat in height and a feeling of comfort even when one sets the room temperature lower than usual. The models offered are white panels with aluminium frames with capacities from 250 to 1000W; black or white glass models, and mirror panels. The panel can be made also in the form of a picture panel with the picture being selected by the client - a favorite painting, a family photo, a beautiful landscape, abstract art and others.
Systems for wireless control with intelligent thermostats
Temperature control in the rooms of the whole dwelling or office via a central module or through separate thermostats - saving from 23% to 46% energy!
Infrared heaters MO-EL for outdoor heating
A large variety of infrared heaters for outdoor use. Mo-El is the first, original, patented, IP65 water resistant infrared heater. All the infrared heaters models are made in Italy, they have Italian design, engineering and manufacturing. Mo-El infrared heaters are certified IMQ (key mark like nemko or VDE) and comply with the strictest European regulations.
Thermoceramic insulation coatings – also known as insulation paints with 'Low-e' component.
The thermoceramic coatings serve as insulation of the premises - and they are applied only via painting! The walls painted with thermoceramic coatings stay warm which does not allow the formation of condensation and mould. Once a wall is painted with two layers of thermoceramic coatings, the insulation effect is compared to one of 3 cm EPS insulation. The thermoceramic paints were developed via technology released on the market by NASA around 20 years ago – they have been on the Bulgarian market for more than 12 years now and during this time we have had many clients who have benefited from their effect. There are paints for inner wall use (which are well-combined with infrared heating panels since they reflect the heat waves back into the room) as well as paints for facade use (for preventing the overheating of the building during long-lasting sunshine periods or for hydro-insulation).
Construction and insulation materials and reflective foils
A wide range of reflective foils - solutions to meet the increasingly stringent thermal insulation performance requirements for buildings.
Traditional insulation works by slowing down convection and conduction. However, radiant heat loss is a major factor in a buildings thermal efficiency accounting for up to 80% of heat lost through walls with only around 20% lost via convection and conduction.
The more radiant energy is reflected the less heat is transferred, our foil membranes reflect more than 95% of radiated heat.
It is essential that insulation has a good thermal performance in summer and winter. When using our Heat Reflecting Membranes, other qualities such as increased living space, durability, and ease of installation are also achieved.
Post comment