Date: 02 Dec 2009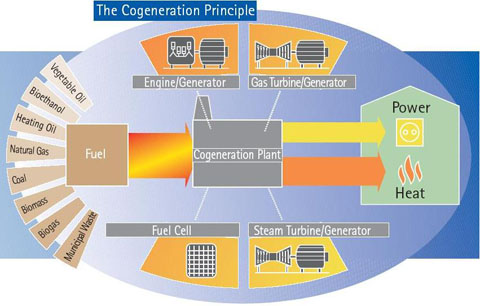 Pestim energia took part in an international seminar on funding for cogeneration projects, organized at Energy Efficiency Agency, Bulgaria, with the initiative of NGO COGEN Bulgaria and the European association COGEN Europe. Different Bulgarian, European and international financing programmes for energy efficiency projects were discussed.
Cogeneration – is it possible in Bulgaria?
Utilization of cogeneration systems is one of the measures leading to energy efficiency. Dr. Fiona Riddoch, Managing Director of COGEN Europe, pointed out that Bulgaria has a big potential for cogeneration plant development. Cogeneration systems may save energy in hospitals, social institutions, manufacturing enterprises, etc. For bigger projects (neighborhoods, cities), Bulgaria has the advantage of possessing established district heating systems, which, if renovated, can be used together with cogeneration plants.
Valentina Uzunova, Managing Director of COGEN Bulgaria, explained that for cogeneration projects it is essential to have preliminary evaluation, professional system choice, and a working proposal. Such preliminary studies are important for verifying whether a cogeneration system is feasible in a certain project, as well as for choosing the optimal solution in terms of capacity and plant type.
Capacity
At the moment the European Union has installed cogeneration capacity of 97.7 GWe. According to experts, it is possible to build new capacities of 122 GWe until 2020. If these are realized, this will bring about reduction in carbon emissions of min. 20 mton CO2 p.a.
As shown on the graph, the potential (technical and financial) for new cogeneration installations in Bulgaria equals 4.61 GWe until 2020. Existing capacities today equal 1.31 GWe.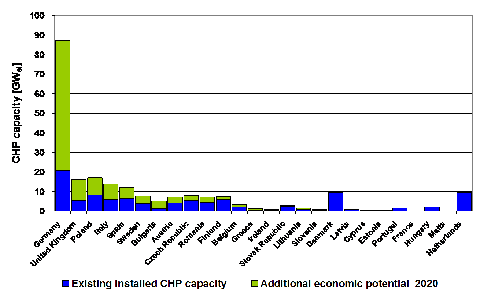 Famous buildings using cogeneration systems:
Berlaymont – Headquarters of the European Commission, Brussels, Belgium
Bundestag - German Parliament, Berlin
Buckingham Palace – Official London residence of the Queen, the UK
La Défense – Modern Parisian quarter, France
Post comment