Application
KAMIN line has been designed to support the domestic chimney with low natural exhausting, thanks to the special construction suitable to operate up to 200°C. When the chimney is stopped, it shall be used to exchange the air in the ambient space.
Composition
Backward curved blade impeller, high efficiency in galvanised steel sheet.

Balancing according to UNI – ISO 1940.

Roof base, with inlet bell-mouth and protection grid in steel sheet coated against atmospheric agents with epoxy paint.

Cap in painted aluminum.

Asynchronous mono-phase electric motor, separated from the conveyed airflow, IP55, S1 service, construction according to IEC/ EEC / UNEL MEC directives.

Arrangement 5; directly flanged on the motor shaft.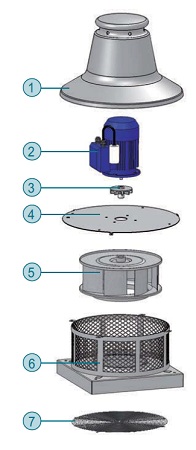 Components
Cover
Motor
Cooling fan
Motor support
Impeller
Fixing base with protection grid
Protection grid (accessory / mandatory for use in the open)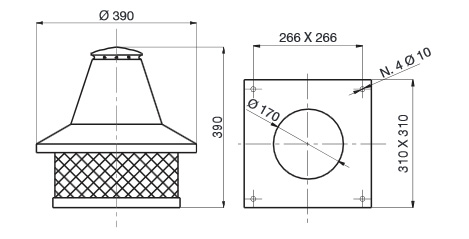 Technical data
Max. flow
Max. pressure
Capacity
Max current
Speed
Sound level
Weight
[m3/h]
[Pa]
[kW]
[A]
[RPM]
[dB(A)]
[kg]
KAMIN
1000
200
0.09
0.37
1500
45
11
Selection curves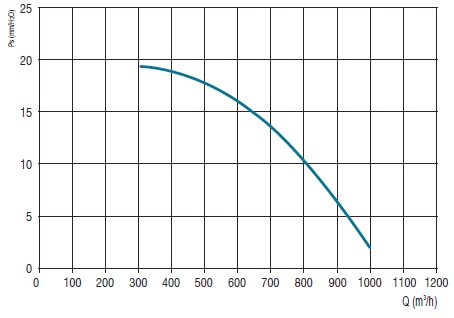 Attention: the fan must always operate during the use of the chimney