Fan Coil thermostat SALUS FC600
A SALUS FC600 is a device suitable for controlling your fan coil unit in both 2-pipe and 4-pipe systems and for managing the temperature in your home and/or working environment.
For an internet connection (Online Mode), this product must be used with the SALUS Universal Gateway (UG600/UGE600) and the SALUS Smart Home App. You can also use the SALUS FC600 without an internet connection (Offline Mode).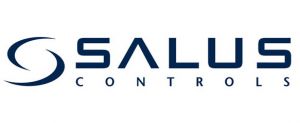 Features:
Controlled manually or via Internet (using SALUS Smart Home app)

HEATING / COOLING mode

ECO mode

Multifunctional inputs
S1 - manual or automatic changeover between HEATING / COOLING mode (using pipe sensor or NO-COM contact)
S2 - operating mode switch (e.g. an occupancy sensor for key-card contact) or external temperature sensor)

Built-in TPI (Time Proportional and Integral) alrgorithm, which assures a stable room temperature

High-precision measurement of the temperature

Automatic or Manual fan speed control using 3 variable fan settings to select (Low / Medium / High)

Time schedule: 5+2 (weekdays+weekends) // 7 day programm // Daily - 6 various set of time, different for each day

30 various configurations of work

Configured and upgraded through Internet (when is connected to the UGE600)

Anti frost and overheating protection

Auto or manual key lock function (preventing from unallowed manipulation)

Filter element change indication

Intuitive operation via touch panel

Easy to use backlit display with graphic menu

Quick-mounting system
Technical characteristics:
Supply

230 V AC

Control outputs:

fans – (I, II, III gear)

valve actuator (cooling/heating)

...

230 V AC
230 V AC

Dimensions (mm)

86x86x42

Thickness (after mounting in Ø60 mm)

16,5 mm