Bathroom Fan Vortice Punto A LL - with automatic shutters

AUTOMATIC shutters - The integral shutters positioned behind the front grille automatically open and close slowly when the unit is operated. The shutters are made from shockproof, anti-UV-treated, plastic.
LONG LIFE - All models are manufactured with long-life ball-bearing motors which are guaranteed for 30,000 hours continuous, trouble-free operation.
For intermittent or continuous ventilation of bathrooms, toilets, kitchens or utility rooms in domestic or commercial properties.
Motor with sheilded poles, with bearings, and thermal cut-out.
Data and performaces IMQ Performance certified.
High airflow rate, low operating noise level and low power consumption due to the wing profile blades and motor support.
IPX4 splashproof protection.
Motor support and grille made of anti-UV ABS.
Available in three outlet sizes: ∅ 120 and 150 mm.
Conforms to the following standards: CEI EN 60335-2-80 (Part 2: Particular requirements for fans), CEI EN 60529 (Code IP) and CEI 107-53/1986.
Design: F. Trabucco & Associates
1) Installation showing extract directly to the outside.
2) Ceiling installation on up to 4m duct.
3) Through the wall installation with wall sleeve and grille.
4) Window installation with standard window kit.
Quick Buy
(Just 2 fields to fill in)
Parameters:
| | | | | | |
| --- | --- | --- | --- | --- | --- |
| Model | V ~ 50Hz | W | m3/h | Pa | Lp dB(A) 3m |
| М 100 | 230-240 | 18 | 90 | 29 | 37.5 |
| М 120 | 230-240 | 20 | 175 | 44 | 39.5 |
| М 150 | 230-240 | 30 | 335 | 59 | 46 |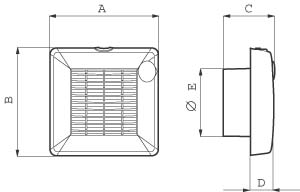 Dimensions (mm):
| | | | | | |
| --- | --- | --- | --- | --- | --- |
| | A | B | C | D | Ø E |
| M 100 | 159 | 160 | 100 | 47 | 99 |
| M 120 | 179 | 181 | 110 | 47 | 119 |
| M 150 | 214 | 215 | 117 | 47 | 156 |
| | | | |
| --- | --- | --- | --- |
| | | | |
| IMQ | CE | IMQ Performance | Gost Standard |