The family of axial wall fans shares hybrid technology, which provides a high value and safe usage.
The design of this fan was inspired by the sea wave shape. Perfect solution for home and office.
Quick Buy
(Just 2 fields to fill in)
TECHNICAL DATA

AVAILABLE MODELS

PERFORMANCE CURVE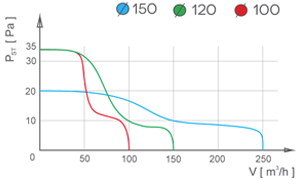 DIMENSIONS

The fans are designed using the newest innovations and possibilities given by the modern technology. Our fans are unique not only because of their design but also thanks to:
Modular construction: Using modular construction and production unification give us the flexibility in modifying the electronic controllers both with the direct or alternating current sensors and turbines.
Innovative solutions.Our fans, among other products available on the market in this sector, have the turbines with changeable paddle geometry. It gives a large airflow with low acoustic pressure. The turbine in our fans is not made in proportion, which means that each size has different adjusted shape of the turbine. Moreover, our fans have a fan baffle which improves the airflow even more.
High quality materials. The casing of the fans is made of the best quality ABS which is characterised by its high durability and scratch resistance. Special additives do not allow dust and UV stabilisers' accumulation. This ultimately protects the snow-white colour of the fans for many years ahead. Active elements exposed to the high temperature are made of technical material called polycarbonate. This material makes the usage safer and prolongs the operating life of the fan. Silicon seals and a special casing construction of the fan ensure high class of waterproofness confirmed by the IPX4 class.
High performance.Our fans are tested with three measurement methods, which give the most precise results. Thanks to the used materials and innovative technologies, our fans reach high performance with low noise level.